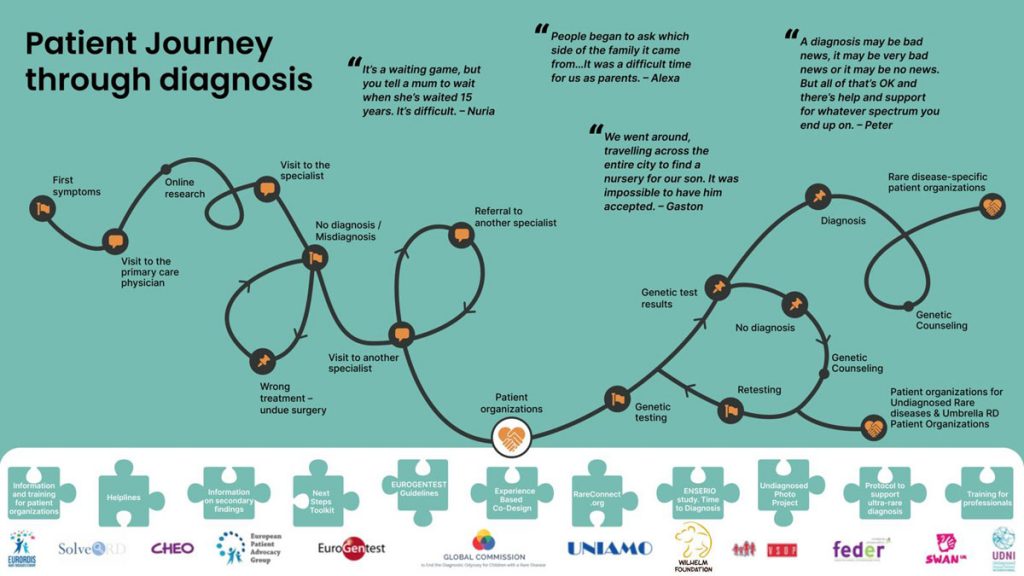 Rare Disease Day takes place on 28 Feb each year and is led by Eurordis. Gene People fully supports Rare Disease Day across the globe and we have pulled together some resources about rare conditions. Please note: this list is not exhaustive but a starting place. Gene People is not responsible for the content of third-party websites and materials.
Rare Disease Day
Get involved in Rare Disease Day by joining the organisations around the world marking this important day.
https://www.rarediseaseday.org/
Eurordis
EURORDIS – Rare Diseases Europe is a unique, non-profit alliance of 988 rare disease patient organisations from 74 countries that work together to improve the lives of the 30 million people living with a rare disease in Europe.
https://www.eurordis.org/
UK Rare Disease Strategy
The Strategy contains 51 commitments to ensure that health and social care systems across the four nations provide those living with rare conditions with the highest possible quality of evidence-based care and treatment, regardless of where they live in the UK.
https://assets.publishing.service.gov.uk/government/uploads/system/uploads/attachment_data/file/260562/UK_Strategy_for_Rare_Diseases.pdf
Rare Disease UK
They are the national campaign for people with rare diseases and all who support them. They provide a united voice for the rare disease community by capturing the experiences of patients and families. They work with their supporters to raise the profile of rare diseases across the UK. They seek to bring about lasting change offering better health and quality of life for individuals and families affected by rare diseases.
https://www.raredisease.org.uk/
Genetic Alliance UK
They work on a variety of issues that families and individuals with genetic conditions face. They aim to provide information, support families and influence the services needed by these patients. They also work to add patient voice into debates that matter to the community. Their work falls into different categories: reproductive techniques, diagnosis, medical research, healthcare and delivery, access to treatments and living and education.
https://geneticalliance.org.uk/
Office for Rare Conditions Glasgow
The Office for Rare Conditions, which is supported by the Glasgow Children's Hospital Charity, the University of Glasgow and Greater Glasgow & Clyde NHS Board works with patients and families affected by rare, low prevalence and undiagnosed conditions and the healthcare professionals who work with them.
https://officeforrareconditions.org/
RareQol
A not-for-profit social enterprise based in North Wales. Their mission is to improve the Quality of Life for rare disease communities and under-represented groups.
https://rareqol.co.uk/
Northern Ireland Rare Disease Partnership
They work together to ensure that no one in Northern Ireland is disadvantaged because of the rarity of their condition. They work to enable people who live or work with rare or hard to diagnose conditions to connect, advocate, educate and innovate in partnership with each other. They work to create and accelerate positive change by working in partnership with families, patients, carers, researchers, health care professionals, the local health departments and member charities.
https://nirdp.org.uk/
Beacon for rare diseases
Building the rare disease community to drive research and develop treatments. Uniting patients and families across all rare diseases to fight for change together.
https://www.rarebeacon.org/
SWAN UK
Approximately 6,000 children are born in the UK each year with a syndrome without a name – a genetic condition so rare that it is often impossible to diagnose. Without a diagnosis it can be difficult to access basic information and support. They have information leaflets which are available to download. They offer 24/7 information and support through our online forums for registered members.
https://www.undiagnosed.org.uk/
Unique
Unique provides support, information and networking to families affected by rare chromosome and gene disorders.
https://rarechromo.org/
Breaking Down Barriers
Breaking Down Barriers is a network of over 50 organisations working together to improve the lives of families from diverse and marginalised communities, so they have equal access to health services.
https://breaking-down-barriers.org.uk/
Rare Revolution
Digital magazine for the rare disease community and those wishing to learn more and be inspired by their stories.
https://rarerevolutionmagazine.com/
Same But Different
Using the arts for positive social change, every art exhibition they create puts people's lived experience at the heart of the story. They use photography, film and the written word to create visual experiences that will change attitudes and empower those affected.
https://www.samebutdifferentcic.org.uk/
RareConnect
A safe, easy to use platform where rare disease patients, families and patient organizations can develop online communities and conversations across continents and languages.
https://www.rareconnect.org/en
Genomics Education Programme
Delivering genomics education, training and experience for the healthcare workforce. A range of resources available to support health professionals with genomics.
https://www.genomicseducation.hee.nhs.uk/
There are a number of podcasts about rare diseases, some of which are listed here.
Rarely Heard
https://podcasts.apple.com/gb/podcast/rarely-heard/id1596928560
RARE/D Conversations
https://podcasts.apple.com/gb/podcast/rare-d-conversations/id1493112670
Once Upon a Gene
https://podcasts.apple.com/gb/podcast/once-upon-a-gene/id1485249347
The G Word
https://podcasts.apple.com/gb/podcast/the-g-word/id1549030035
DNA Today
https://podcasts.apple.com/gb/podcast/dna-today-a-genetics-podcast/id1209263436
The Rare Disease Podcast 4 Medics
https://podcasts.apple.com/gb/podcast/the-rare-disease-podcast-4-medics/id1591571033