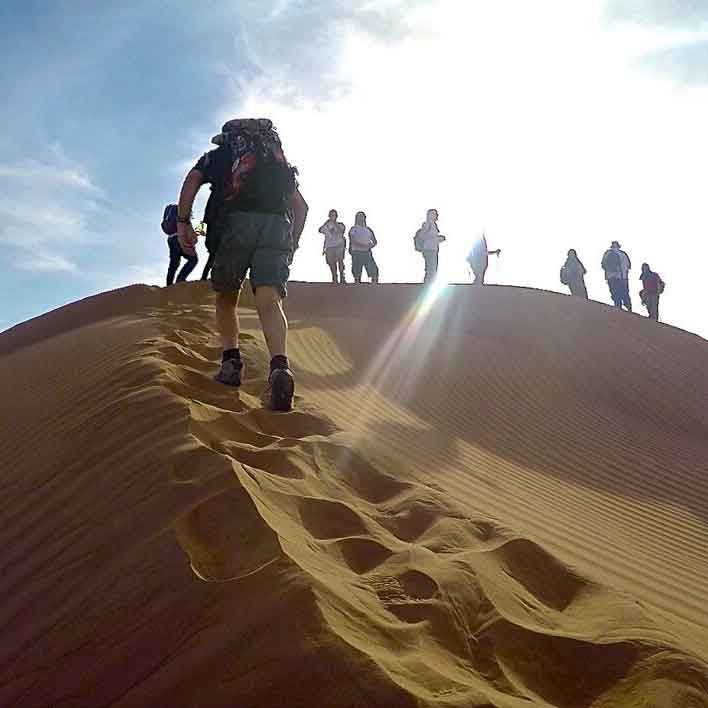 SAHARA DESERT TREK
The Sahara Desert Trek is an incredible expedition across mesmerising landscapes, mirages and golden dunes that immerses you in the beauty and solitude of the desert. You follow the footsteps many Berber tribes have made and still do to this day all while witnessing vistas that take your breath away.
Your trek begins at the village of M'Hamid, and you journey through bare fields and palm trees, crossing the dunes of Ait Oumir and L'erg Zaher, the highest in the region. Each day, awake to a golden sunrise and the quiet of the desert that instils a sense of calm as you take in the serene beauty of the desert.
Deep red sand, panoramic views, fiery sunsets, huge campfires and starry skies are just a few of the things that make this Sahara Desert Trek experience truly exceptional. If you are looking for a challenging trek with a beautiful backdrop where you will make friends for life around the campfire, enjoy delicious traditional Moroccan food and step out of your comfort zone, then this is the trip for you!
Email us at events@geneticdisordersuk.org for more information.
Dates: November 2020 (date TBC)
Registration fee: £199
Minimum Sponsorship: £1,950
How we'll support you
If you choose us as your charity for the challenge, you'll get:
A branded Genetic Disorders UK top
Support through your journey from our events co-ordinator